INFINITI QX80 vs. Lexus LX
How Does the 2021 INFINITI QX80 Compare to the Lexus LX?
When you're looking to hit the road in a great SUV, it only makes sense to invest in something better. That's why you're looking at a new model like the 2021 INFINITI QX80.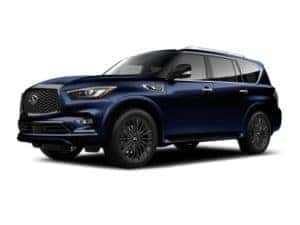 An impressive member of INFINITI's renowned SUV lineup, the INFINITI QX80 delivers one of the most impressive luxury experiences available on the roads of Huntington and Columbia City, IN. With seating for up to eight, powerful performance options, and a winning spread of features, it delivers a driving package that's hard to beat.
If you don't believe us, just look at how it compares to one of its chief competitors: the Lexus LX. If you're keen on a new SUV, take a look at how these two new models compare. We'll show you why the INFINITI QX80 is the best SUV for you!
The 2021 INFINITI QX80
An eight-seat full-sized model that all but oozes luxury, the INFINITI QX80 offers an SUV package that stands out even among the ranks of its premium-market peers. Backed up by a powerful V8 powertrain and equipped to impress, the new model offers amenities geared toward comfort, convenience, safety, and more.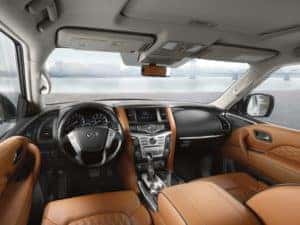 Performance: 5.6-liter V8 (400 horsepower, 413 pounds-feet of torque, 14/20 miles per gallon
Feature Options: Tri-Zone Automatic Climat Control, Leather Seating, Rear-Seat Entertainment System, Bose Sound System, Built-in Navigation, Leather Upholstery
Safety Features: Rear Door Alerts, Forward Collision Warnings, Automatic Emergency Braking, Intelligent Cruise Control, Adaptive Headlights, Backup Collision Intervention
Starting Price: Around $69,000
The 2021 Lexus LX
A premium brand through and through, Lexus has a slew of solid SUVs in its lineup. Included among these are new models like the Lexus LX. Powerful under the hood and comfortable on the inside, the Lexus has seating for eight and an impressive selection of premium-level features.
Performance: 5.7-liter V8 (383 horsepower, 403 pounds-feet of torque, 12/16 miles per gallon
Feature Options: Built-in Navigation, Leather Upholstery, Quad-Zone Automatic Climate Control, Heated Steering Wheel, Mark Levison Sound System, Rear-Seat Entertainment System
Safety Features: Forward Collision Mitigation, Lane-Departure Alerts, Adaptive Cruise Control, Automatic High Beams, Blind Spot Monitoring
Starting Price: Around $86,500
Why is the New INFINITI QX80 the Right SUV for Me?
The new Lexus LX is an impressive full-sized SUV. It has the price tag of one too! And that's a problem when you consider that the INFINITI QX80 delivers a lot of the same features (more in some places) for less.
When you drive home in the new INFINITI QX80, you'll enjoy a better standard of performance, an on par feature suite, and, of course, the superior style of a new INFINITI car.
Schedule Your New INFINITI SUV Test Drive Today
Would you like to know more about the 2021 INFINITI QX80 and everything it has to offer? Reach out to the sales team at INFINITI of Fort Wayne. Our luxury SUV experts would be happy to fill you in on our new INFINITI inventory. This includes new model options for the 2021 INFINITI QX80 and more.
We'll provide a full rundown of the current model and help you find a new SUV that's right for you. And once we've done that? We'll connect you to a new INFINITI finance offer that can help it be more affordable. We have new lease and loan offers ready and waiting to satisfy your needs.
Don't hesitate to get in touch with us today to learn more.