INFINITI Lease End Options in Fort Wayne, Indiana
You've spent the past few years driving behind the wheel of your INFINITI car or SUV, and it's been a good experience. With your INFINITI lease drawing to its close, however, the time's come to sort out what's next and what sorts of steps fit you best moving forward.
The team at our Fort Wayne dealership is here to help. Serving drivers all over the state of Indiana, INFINITI of Fort Wayne can guide you through your end-of-lease options. We'll lead you down the path to a smoother, more comfortable lease return process. Regardless of where you leased from initially, you can come to our dealership as your INFINITI lease return center.
Explore Your End-of-Lease Options in Fort Wayne, IN
When you start looking at the end-of-lease process, you'll find several solid options waiting for you. These include: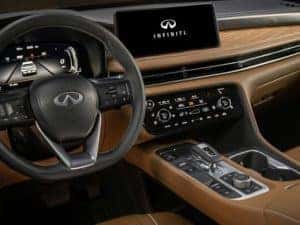 Returning Your Vehicle. Even though you enjoyed your leased INFINITI vehicle, you may be ready to move on from it. Talk to our sales team and we'll help you arrange a lease return inspection, sort out your remaining fees, and set up a time for you to drop off your vehicle. You can return your INFINITI lease outright, or you can upgrade to a new INFINITI model with the latest & greatest features and technology.
Buy Your Vehicle. If you've enjoyed your INFINITI lease so much that you'd like to make it your own you have the option to purchase it at the end of your lease term. Our staff can help you enter into a beneficial purchase agreement, complete with a lower monthly payment. Consult with our INFINITI financing team to learn more.
Extend Your Lease. Maybe now isn't the right time to move on. Our staff can help you set up a vehicle lease extension. We'll give you extra months in your vehicle so you can wrap up your lease at time that feels right for you.
Contact Our Dealership Today With Your Questions
Would you like to know more about the end of lease process and how lease returns work in Fort Wayne? Give the staff at INFINITI of Fort Wayne a call or a click. We'd be happy to discuss your questions and provide insight into all the different tools our dealership has to simplify your lease return.