2021 INFINITI QX50
Learn More About the 2021 INFINITI QX50 at INFINITI of Fort Wayne
Explore Everything this New Luxury Compact has to Offer
When you're shopping for your next compact SUV, it can pay to invest in something premium. Case in point? The 2021 INFINITI QX50.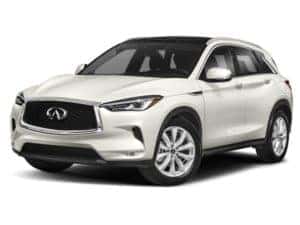 A compact model with seating for up to five, the new INFINITI QX50 offers an attractive driving package that looks great and feels even better behind the wheel. With its rich suite of features and luxury-level amenities, the QX50 offers a driving experience that stands out even among its premium market peers.
Serving drivers all over the Fort Wayne area and more, our dealership has the knowledge and expertise to answer all your INFINITI QX50 questions.
Find the New INFINITI QX50 SUV That Satisfies Your Needs on the Road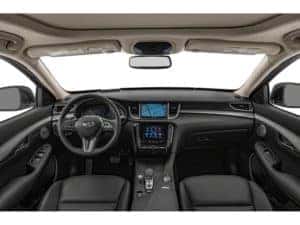 When you visit our dealership looking for a 2021 INFINITI QX5, you'll find five different trim models waiting for you:
• INFINITI QX50 PURE
• INFINITI QX50 LUXE
• INFINITI QX50 ESSENTIAL
• INFINITI QX50 SENSORY
• INFINITI QX50 AUTOGRAPH
Luxury and value are key to the INFINITI driving experience, and you'll find both of those in abundance when you drive home in a new INFINITI QX50 SUV.
The 2021 model offers valuable options like a standard 7-inch touchscreen infotainment system. This system comes complete with access to coveted options like Apple CarPlay and Android Auto; apps designed to make music streaming easy. Combined with options for a premium 16-speaker sound system, it provides the tools to enjoy the best of your favorite media on the go.
The INFINITI QX50's media suite is only one small of everything it has to offer. It also offers standard leather seat trim, a dual-zone automatic climate control, a hands-free power liftgate, and a whole slew of other optional features. These include advanced safety technology, designed to protect you everywhere you go.
No matter what you're looking for in a new SUV, there's an INFINITI QX50 SUV for you!
Performance-Focused Engine Options Designed to Take You Further
The INFINITI QX50 isn't just premium because of the features it offers! The new model also offers some excellent options for performance.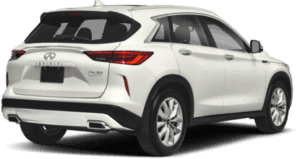 Every new model comes equipped with a 2.0-liter turbocharged inline-4 powertrain. Rated by experts as capable of up to 268 horsepower with 280 pounds-feet of torque. That, on its own, is more than enough to get this compact SUV moving. If that's somehow not enough for you though, all-wheel-drive is also available to provide a touch of extra oomph for those moments when the weather or roads get rough.
And if you're looking for good gas mileage? This very same powertrain can provide up to 23 miles per gallon on city roads along with 29 miles per gallon on the highway. That's not too shabby when you consider how much muscle you get in this compact SUV.
Contact the Sales Team at INFINITI of Fort Wayne to Learn More
Would you like to know more about everything the new 2021 INFINITI QX50 has to offer? Reach out to the INFINITI experts at our dealership at any time! We can tell you all about our current INFINITI lineup, including our new stock of 2021 INFINITI QX50 SUVs.
You'll find our Fort Wayne team ready to answer any questions you have about the new model. More important? We can put you behind the wheel of a new QX50 SUV for a test drive! Nothing will tell you more about the INFINITI QX50 experience than a few miles behind the wheel.
For all your INFINITI driving needs and more, give us a call at our dealership. We take pride in our status as a luxury car resource for drivers in Fort Wayne and more.